To make towing your caravan as easy, and safe, as possible, it's handy to have a reversing camera. Just like all your other caravan accessories, it can be hard to know which one to choose – there are so many! If you're feeling overwhelmed by the vast array of choices, don't worry, we're here to help.
We've compiled a list of the best reverse cameras on the market that will suit everyone's needs and preferences! Read on and pick your favourite…
Related: Everything You Need To Know About Buying A Caravan
Types Of Reversing Cameras
Before we get into our list of the best reversing cameras, you should be aware of the different types available. Depending on your preference and the type of van you have, there may be one particular type of reversing camera that is better suited to you than another.
Wired
Wired reverse cameras feature a cable that runs to the front of your van and connects to the camera's monitor. While you might be thinking that having a wired camera will be a nuisance, they can often be more reliable as there is little interference to the connection (unless the wire comes loose of course). However, you do need to be aware that these cameras are more time-consuming to install. The cable from the camera has to be run under the caravan and up through the dash, so it can be a bit complicated. On the plus side though, wired cameras can be connected all the time, not just when the vehicle is put into reverse, meaning you can use them to substitute as a rearview mirror.
Wireless
As the name suggests, wireless reverse cameras do not have a cable that connects to the monitor. Instead, they work by connecting to the monitor via WiFi or Bluetooth. Wireless cameras are much easier to install, as you simply need a WiFi or Bluetooth connection, which is common in most modern-day vehicles. That said, if the WiFi or Bluetooth connection is disrupted, this will cause the camera to drop out so you will not be able to receive any feed footage. It is also important to be aware that wireless cameras cannot be used as a rearview mirror as it is only powered while the vehicle is in reverse.
Related: The Best UHFs For Travelling Australia
Different Styles Of Cameras
Just like how there are two different types of cameras to choose from, there are also different styles that are mounted to your vehicle in different positions.
Classic Style
Generally, a reversing camera is mounted high up on the rear of the van so there is good visibility of the area behind the van. These cameras also feature infrared LEDs which allow the camera to produce a high-quality image even when it's dark outside. The viewing angle is generally 120 degrees, though they are often adjustable, so you can move it to the position you require.
Twin Camera
These cameras are not as common, though there are a few floating around on the market. Having two cameras means that one can be used as a permanent rearview mirror while the other can be used as a reversing camera. The camera used for reversing is only activated once the vehicle is put into reverse, so there's no need to worry about complications with the rearview camera.
Number Plate Camera
This type of camera is designed to clip onto your vehicle's number plate. While they are convenient to mount onto your vehicle, they do not feature infrared LEDs to help with picture quality at night and it can also be tricky to adjust them for better coverage.
Top Cameras On The Market
Now you're familiar with the different types of cameras there are on the market, let's take a look at some of the best ones!
Related: The Best Towing Mirrors On The Market in 2021
1. FURRION Vision S Rear-Vision Camera & 7″ Display Kit
This reversing camera comes in a kit, so you get both the camera and the monitor. It's a high-quality camera that's wireless and features a touch-screen monitor for quick and easy use. The camera also features infrared LEDs for night vision and it's waterproof, so you won't run into trouble if you're driving through a downpour. The monitor includes windshield or universal surface mounting options for convenience. With such a high-quality picture, it's no wonder this camera is the go-to for many caravanners.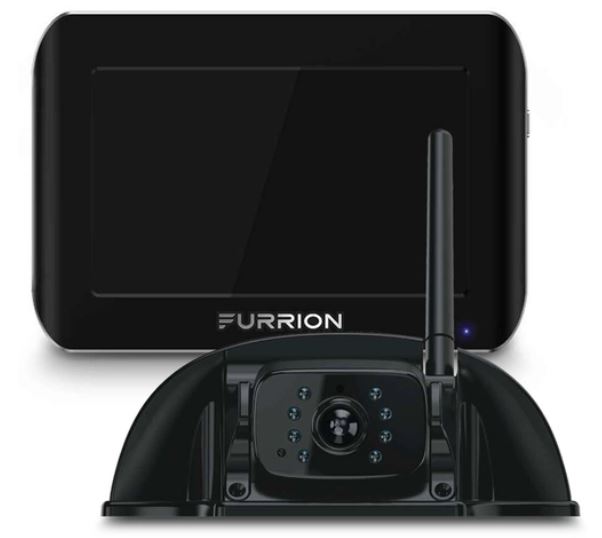 ---
2. Sphere Caravan Reversing Camera Kit
This wired reversing camera from Sphere comes with everything you need to set up your reversing camera. The kit includes cables to connect the camera to the monitor, as well as the black eyeball camera and 7″ monitor. The camera features both left and right modes so it can be changed to suit the driver's needs. A quality picture is guaranteed with infrared LEDs for great night time display. With a coverage angle of 120 degrees, this camera can be adjusted to allow the driver to see what they need.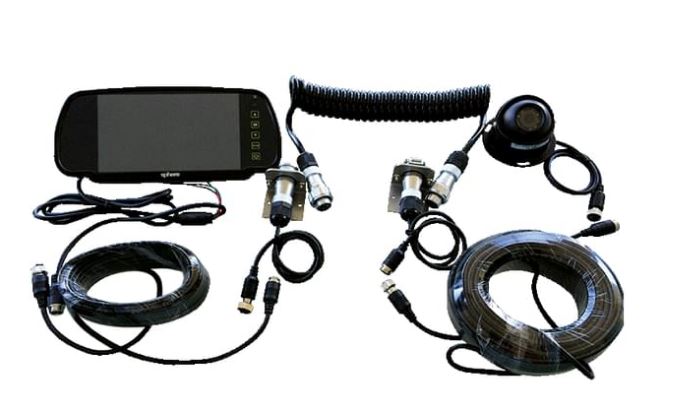 ---
3. Dometic RVS 745 – 7″ AHD LCD Monitor & Colour Camera
Dometic has developed a top of the line reversing camera with complete LED lighting to provide excellent picture quality both day and night. The monitor features an adjustable ball mount so you can position it wherever is most comfortable and convenient. Anti-reflection technology ensures a quality picture on your monitor, even in direct sunlight. Three cameras can be connected at once to allow for optimal coverage and all-around viewing. Illuminated keys and day-night switching is also available on the monitor for convenience while driving.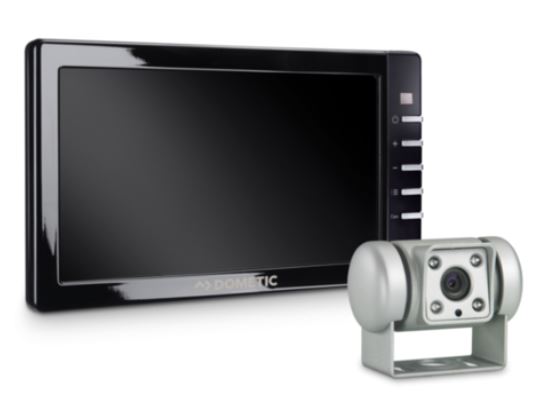 ---
4. Elinz 7" Monitor Caravan 2 Cameras System
For a slightly cheaper reversing camera for your caravan that's still good quality, Elinz is your go-to. They produce a range of different kits, some with two cameras, some with one, as well as monitors in various different sizes. Plus, they're decently priced so you won't blow your budget! The monitor for this camera features anti-glare technology so drivers can use the monitor in direct sunlight. The camera also comes with 18 LEDs to provide a quality picture even at night time. Not to mention that up to 3 cameras can be connected at once, allowing for better coverage to reduce blind spots.
---
5. Masten 4.3 LCD Rearview Mirror Monitor With 2 Inputs Vehicle Specific Mount Camera
This fantastic design from Masten means you can have access to a rearview mirror at all times, even when your vehicle is not in reverse. You simply have to replace your current rearview mirror with the one provided in this kit. A dome-shaped camera is also included that has been specially crafted for caravans and motorhomes. It features 24 infrared LEDs for night vision and is also water and dust proof. Even better, both camera inputs on the mirror monitor have separate power trigger control wires meaning that you can automatically display and switch between using the camera to reverse or as a rearview mirror.
---
6. Elinz 9" DVR Monitor 4CH Realtime With 3 Cameras Package
Another great choice to consider from Elinz is this 9" monitor which has four ports for camera connections. Plus, purchasing this package means you get three cameras! The cameras can work and be displayed simultaneously providing you with top-quality coverage so you can see everything behind your van. You don't need your vehicle to be in reverse gear to see what's happening behind it thanks to the multiple cameras! The cameras feature 18 infrared LEDs for quality night time images and they're also waterproof. You can also record the footage on your monitor – a bonus if your van is ever rear-ended and you need proof for your insurance company.
Related: Everything You Need To Know About Caravan Insurance