It's not at all surprising that Cable Beach and/or Broome are much sought after stops on the Big Lap around Australia. Big Lappers flock to this idyllic paradise during the cooler and drier winter months from May to August.
Broome is the last bastion of civilization prior to reaching the northern-most tip of Western Australia and the vast Kimberley region. It is also where this famous beach, named after cable that was laid between Broome and Java in 1889 for telegraph lines, is located.
We arrived here on our Big Lap right, smack-bang in the midst of the north Western Australia winter. Most days it was a balmy 30 degrees celsius and it was like an oasis in the desert after driving for days through the dry, arid Pilbara region. Luckily we had booked our camping site well ahead of time, because Broome does get booked out early.
First Impressions Of Cable Beach
After setting up camp we headed out to Cable Beach to see what all the hype was about this beach. I mean to say, we come from Queensland, and don't we have some of the most stunning beaches in the country?
We discovered that Cable Beach is a 22 kilometre-long stretch of pure white sand, set against a backdrop of red ochre cliffs and fringed by the turquoise waters of the Indian Ocean. The contrasts of the vivid colours is soul-stirring and I think that this alone is what makes this beach one of the top beaches in Australia.
Read Next: 7 Incredible Broome and North West Experiences To Have On Your Big Lap
Things To Do In Cable Beach
Apart from taking a stroll along this lengthy beach, there are many other things to do in Cable Beach.
Try 4WDing along the beach. We accessed the beach at the vehicle ramp at Cable Beach Road West and headed north past the rocks.
We took our drinks, nibbles and camp chairs down to Cable Beach and watched the sunset. The spectacle of the vibrant light show of the sunset and the sight of the camel safaris along the beach is definitely worth watching.
I took a sunset camel safari along the beach and I feel it is one of the must-do experiences in Cable Beach. There are a couple of companies that take these safaris twice daily. It is extremely popular, so make sure you book ahead.
For a relaxing sunset experience in Cable Beach, set sail on a catamaran or embark on a historical adventure aboard a pearl lugger, on a sunset cruise with a glass of bubbly in hand.
We visited Gantheaume Point at the southern end of Cable Beach to observe the 130-million-year-old dinosaur footprints set in the rocks. We also saw the skeletal tower of the Gantheaume Point Lighthouse, a steel structure that was built to guide ships around the point. There are some shallow rock pools here where you can take a dip if you feel inclined.
We swam at Cable Beach in the shallow pristine water each day we visited, but after seeing a warning sign that there had been a sighting of a big "salty" croc we decided to stay on the land!
You're able to hire stand-up paddle boards or kayaks and take a paddle offshore in the calm waters of the Indian Ocean. There is the Broome Beach Hut located right on the beach where you can hire paddle boards, surfboards or boogie boards. Otherwise book yourself on a kayak tour with Turtle Kayak.
Hire a boat and go fishing or fish off the beach.
Go "clothing optional" north of the rocks at Cable Beach and get rid of those tan lines! Since the 1960s naturists have been doing exactly this!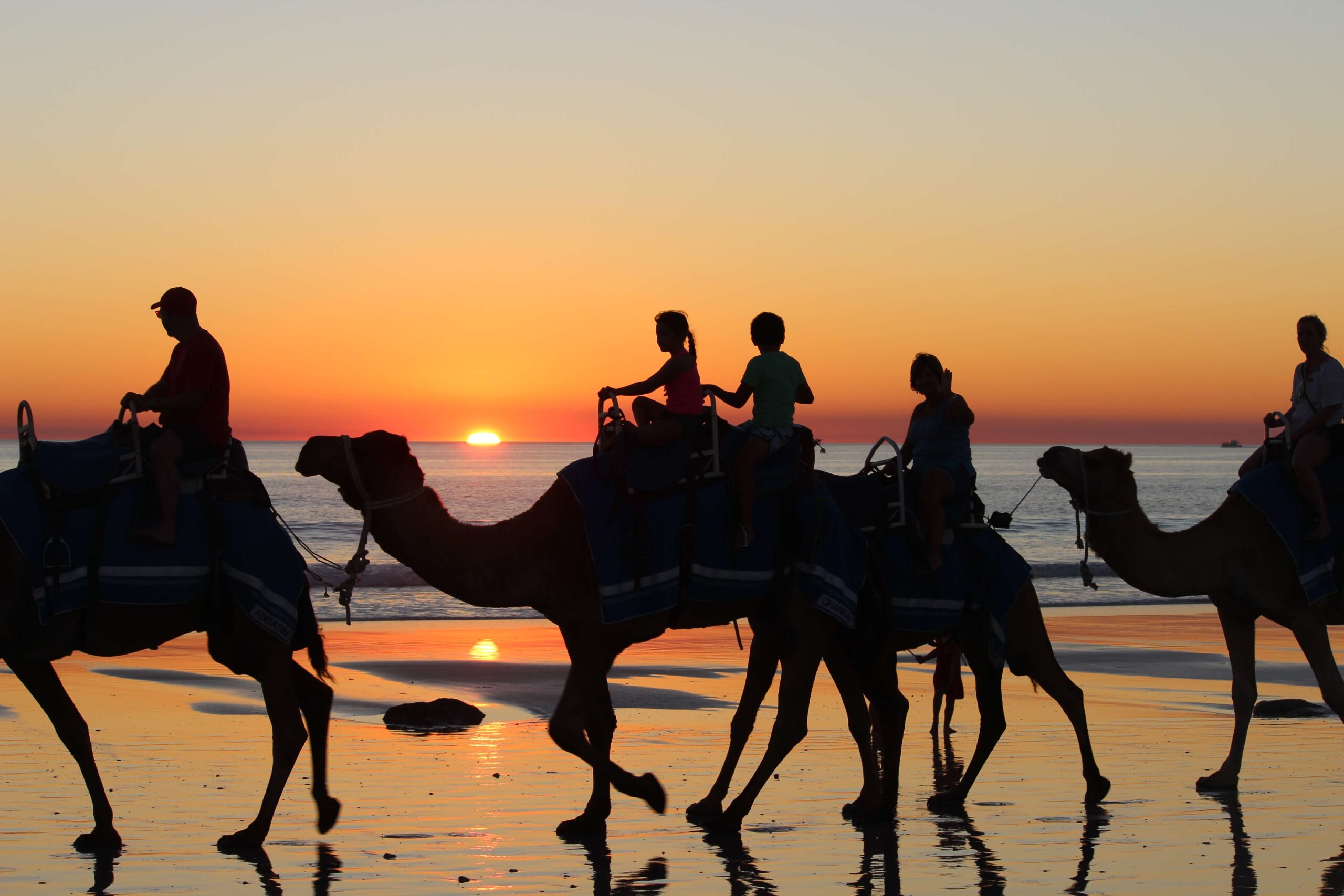 Read Next: Top Beaches in Western Australia
Where To Camp In Cable Beach
There are several caravan parks located within walking distance to Cable Beach. We stayed in Broome at the PCYC Campground, as we had our dog with us and had to stay somewhere pet-friendly. We drove our 4WD to Cable Beach each day during our stay here, only a short drive from town.
The three options are:
Cable Beach Caravan Park
Tarangau Caravan Park
RAC Cable Beach Holiday Park
A word of warning though! These caravan parks book out early in the high season between May to August. You need to book well ahead of time to secure a caravan or camping site.
Although Cable Beach in Broome is a little remote and difficult to get to, it is one of those must see travel destinations in Australia that everyone should do at least once. I could easily escape the cold months during winter and stroll along this ravishing beach, climb aboard a camel or just sit back and chillax with a chilled wine in hand and watch the light shedding colours on the beach as the sun goes down.
Read Next: 18 Free Camps You Need To Know About in Broome & The North West